Religion, politics, myth, and history have traversed for centuries around a village. These villages are on the banks of the Phalgu River. The small town is just south of Bihar's capital Patna. This incredible location—Bodh Gaya—is the location of Siddhartha Gautama, the Buddha's enlightenment, or "great awakening" (Sanskrit, Mahabodhi).
Siddhartha Gautama, who left behind his princely life to wander and practise asceticism, sat in meditation under the Bodhi tree. Here, he overcame temptation in the shape of the demon Mara. He also set the wheels in motion to birth a major international religion—Buddhism.
The events of the Buddha's life occurred about the fifth-century B.C.E… Bodh Gaya is also a famous pilgrimage town filled with ancient, mediaeval, and modern shrines, monasteries, temples, and hotels more than 2,500 years later. This hallowed Buddhist centre's historical and archaeological record dates back to at least the 3rd-century B.C.E.
The Mahabodhi Temple Complex, located in the centre of historic Bodh Gaya, is bustling with shrines, monuments, and sculpted figures dating back over 2,000 years. In this article, we will also discuss three of the most significant monuments:
The Bodhi tree is a type of Buddhist tree.
The Vajrasana, or "Diamond Throne," is a yoga posture.
The Mahabodhi Temple is a Buddhist temple in India.
In Buddhism, Bodh Gaya is the holiest location. It is on the bank of the Lilajan River. It was Uruwela during the Buddha's time. King Ashoka constructed the first temple on the site.
Buddha is said to have been born in 563 BC on the auspicious Baisakhi Purnima. In 534 BC, at the age of 29, Siddhartha renounced his family and traveled and meditated in quest of truth as Siddhartha. After six years of meditation at Urubela (Buddhagaya) in Gaya, he left up self-mortification since it did not bring him Vimukthi. Then, without the assistance of anyone, he found and pursued the Noble Eightfold Path, and as a result, he reached Buddhatva or enlightenment.
Many inscriptions and pilgrimage records exist to document the history of Bodh Gaya. The narratives of Chinese pilgrims Faxian in the 5th century. And Xuanzang in the 7th century is famous. For decades, the region was the epicenter of Buddhist civilization. But After that, Turkic forces captured it in the 13th century.
Gautama Siddhartha's disciples began to visit the site during the full moon in the Hindu calendar month of Vaisakh (April–May). Over time, the location became known as Bodh Gaya, the enlightenment day as Buddha Purnima, and the tree as the Bodhi Tree.
Top Places To Visit Bodh Gaya
1. Mahabodhi Temple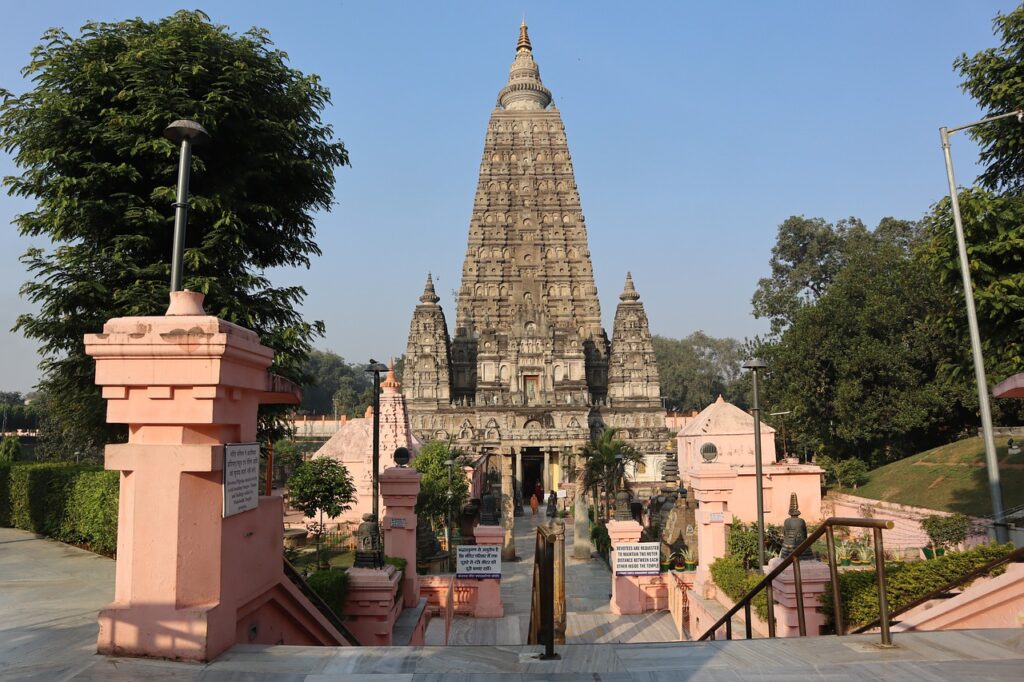 The Mahabodhi Temple is one of India's oldest and most prominent sanctuaries. Mahabodhi Mahavihara Temple is located in Bodh Gaya. It is easily accessible from all of Bihar's major towns and cities. The nearest airport is Patna, which is 96 kilometers away from Gaya.
Bodh Gaya, often known as Gaya, is a holy town with its railway station. A network of highways connects the town to major cities as well. The Great Awakening Temple is the precise translation of the Mahabodhi Temple.
Many of the temple's oldest sculptural pieces have been relocated to the temple's museum. Also, some have been replace with copies, such as the carved stone railing wall around the main structure.
2. Bodhi Tree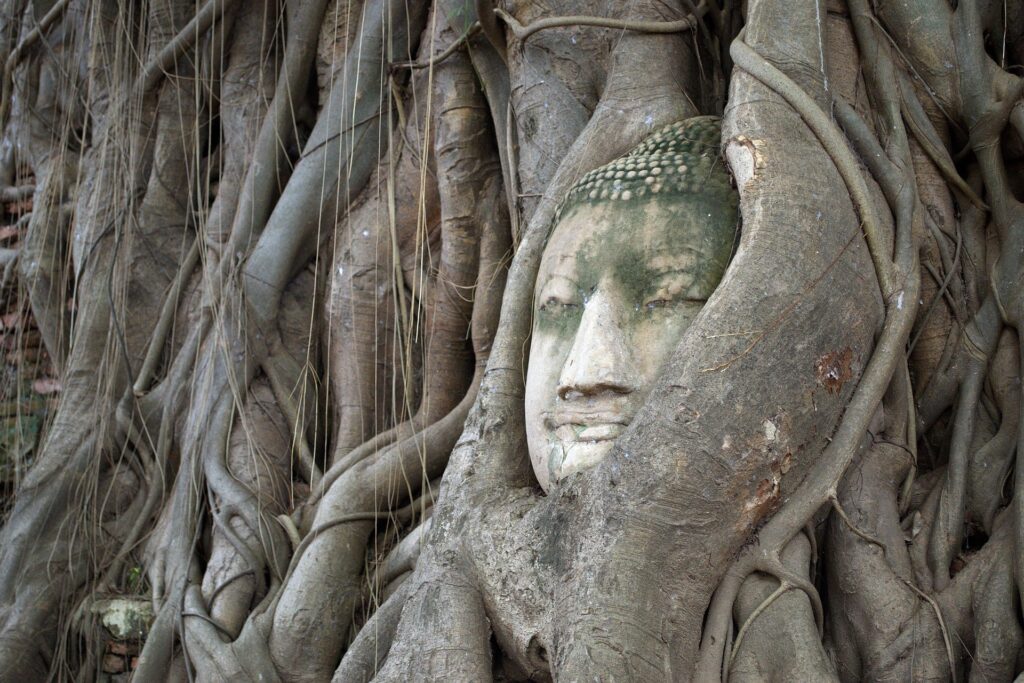 The Bodhi Tree was a great and old sacred fig tree. The other names are the Bodhi Fig Tree or Bo Tree. It is supposed that Siddhartha Gautama, the spiritual teacher who became known as the Buddha. He acquired enlightenment or Bodhi under it around 500 BCE. The Bodhi Tree is in religious iconography by its heart-shaped leaves. They are generally prominently exhibited.
The Mahabodhi Tree in the Mahabodhi Temple in Bodh Gaya, sometimes cited as a direct descendant of the original tree is the best example of an existent tree. This tree, established in 250 BCE, is a popular pilgrimage site. It is the most important of the four major Buddhist pilgrimage sites.
3. Great Buddha Statue
One of Bodh Gaya's most famous landmarks is an 80-foot-high stone sculpture of Lord Buddha in a meditation stance. The statue was built in 1989 and had been attracting tourists to Bodh Gaya ever since. This temple is on the street with a few other temples on a tiny town's corner, not far from the Mahabodhi Temple, and is a must-see for all.
Even though it is close to tourists, it was one of the few sites you can enjoy. You can walk around the circumference, marveling at the simple beauty of the Buddha and his follower's statues from every angle.
You can come to see this Great Buddha, exclaim, wow, and then leave. It also give the opportunity to interact with others, chant, or meditate. You can also take a slow walk around and understand the meanings of various hand placements. This Buddha has a lot of energy.
4. Thai Monastery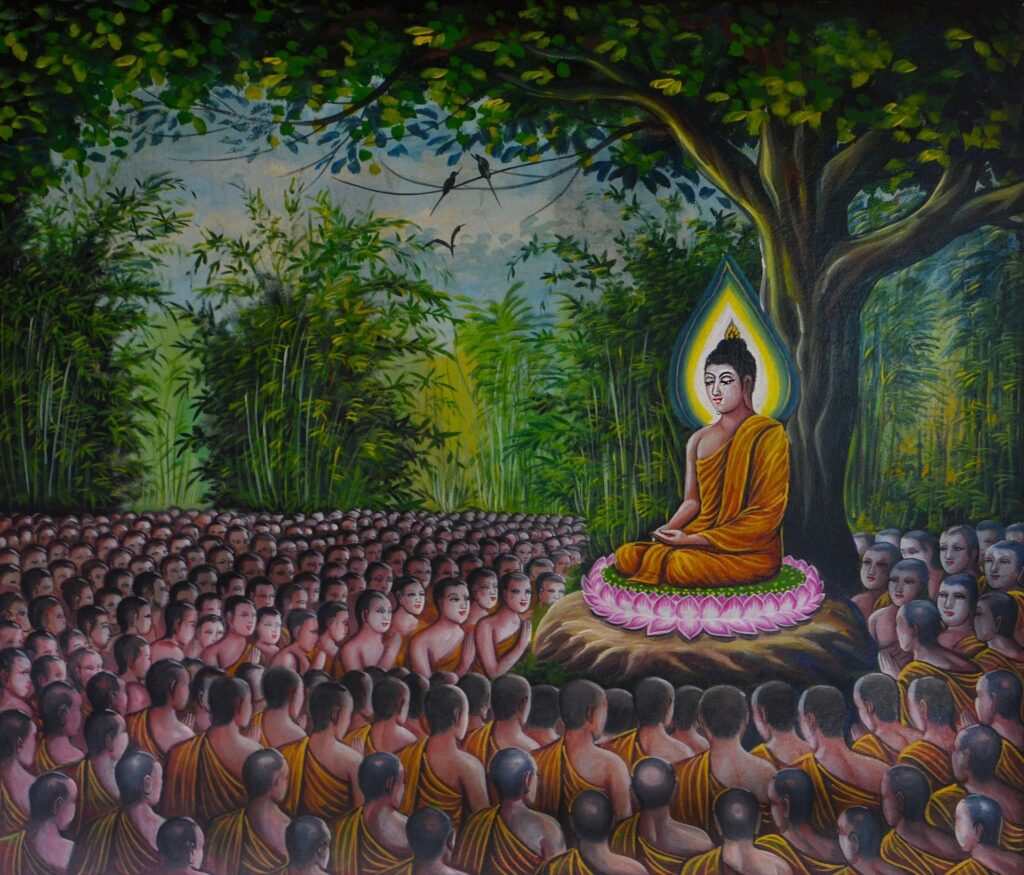 The Thai Monastery stands out among the many monasteries created by many countries. This monastery, located a short distance from the Mahabodhi temple complex. It is a traditional Thai-style monastery. And it also features a large Buddha inside. Between 9 a.m. and 6 p.m., the monastery is open to the public and does not close in the afternoon.
It will help if you spend some quiet time here to meditate or admire the architecture and the massive Buddha. Here, you will also get peace and tranquillity. The Thai Monastery is a stunning structure that was created by countries with large Buddhist populations. It attracts large visitors.
5. Royal Bhutan Monastery
The traditional Dzong architectural style created the monastery in the 1990s. We should thank the generous backing of Bhutan's Fourth King, Jigme Singye Wangchuk, and donations from international and Bhutanese donors. As of 2006, the monastery was still under construction. Despite this, the monastery houses over 250 monks. Many of whom are youngsters and young adults.
The embossed frescos on the inside wall of the shrine are a unique feature of this monastery. It will be an amazing site for you if you will see it the first time. For art lovers, it is a must-see site. About a kilometer from the Mahabodhi temple, Tanger monastery is also well-known for its magnificent and elaborate Bhutanese paintings and tapestries. The monastery is open to tourists throughout the day (except 12-2 PM), and if one arrives during the prayer period, one may soak up the prayers, which is a beautiful sense.
6. Metta Buddharam Temple
Despite its recent construction, the Metta Buddharam temple is a magnificent work of art and a visual delight. Anyone, we are sure, would be instantly enthralled by the place's pure beauty and elegance. Although this temple is not in the heart of Bodh Gaya, it is near to the Yonggi Dega Temple, which attracts a large number of tourists.
There is a giant white Buddha statue here, but nothing else. It reminds us of a white temple in Chiang Rai. Bodh Gaya Metta Buddharam temple is well worth a visit. There is a calm statue of Lord Buddha there, with Buddha wearing a most human expression.
7. Indosan Nippon Japenese Temple
It is a beautiful temple on the way to Mahabodhi Temple and Great Buddha Statue and within walking reach of both. The large temple construction is reminiscent of a Japanese pagoda. The environment is calm. Within the property, there is a school. It is a must-see along with the other temples on your Bodh Gaya tour. This temple, built in the Mahayana style, stands out among South-East Asian Theravada temples.
It's quiet and off the beaten path. It's a nice spot to relax and contemplate. This temple is located in a peaceful and serene environment. After visiting this temple, one will understand the phrase "cleanliness is Godliness." The scent of incense transports you to another realm. This temple, in my opinion, should not be overlooked.
How Can You Get In Bodh Gaya?
Bodh Gaya By Plane
The nearest airport is at Gaya (17 km), where Druk Air flies once a week from Bangkok. Gaya is served by Thai Airways regularly. Indian Airlines flies from Kolkata to Gaya on Fridays around 10 a.m. and returns on Mondays around 15 a.m. Every day, Air India flies from New Delhi to Varanasi. Indigo also operates flights from New Delhi.
You can also fly to Patna Airport (110 kilometers away) and then take a train or taxi to Bodh Gaya, as Patna has many daily direct flights to Delhi, Kolkata, and Mumbai. Bangkok can be utilized as a hub to change flights to Kolkata (there are several daily flights Bangkok-Kolkata-Bangkok), and Kolkata has four or five daily flights to Patna. This way you can reach Bodh Gaya by plane.
Gaya is the closest railway station (16 km). You can take a bus or a three-wheel taxi to Bodh Gaya from there. The cost of a three-wheel cab varies greatly depending on the time of day, but it should be between 80 and 120 rupees. It will help if you haggle hard because there is rarely a scarcity of service.
The train from Patna to Gaya costs 34 rupees (Patna is the next large airport and railhead) (as of January 2008). It takes roughly two hours to travel by express train. Calcutta to Delhi train travel takes about 8 hours; Delhi to Calcutta rail travel takes approximately 15 hours (2nd class air-con costs 1600 rupees; book upstairs at the Gaya station then pay downstairs at window 29).
For more detail on Trains for Gaya you can refer to our another important article by clicking here.
Bodh Gaya By Car
Because Patna has many daily direct flights to Delhi, Kolkata, Mumbai, Pune, Bangalore, Lucknow, and Hyderabad, one can fly to Patna Airport (110 km distant) and then take a train or taxi to Bodh Gaya. The road is now in decent condition, but it is narrow, making the ride slow and risky. It takes about 3 hours to get there from Patna, and the easiest way to get there is to bypass the Gaya market because the roads are tiny.
This article is not over yet. We will be updating the article with more genuine and legit information about Bodh Gaya. Please read the article carefully and give your opinion about our work on "Bodh Gaya: A Must Visit Destination For Every Traveler"