"Earning a respectable quantity of money in a dignified manner throughout the rest of my life, with no seasonal ups and downs." There are only a few jobs that meet this requirement for parents. Medical and engineering are the tried and true options. Many more are emerging but are not yet well-known. Here, we have come up with the information of Gaya Engineering College. Above all, we will try to give all the relevant details.
History
Gaya Engineering College has a long and illustrious history. The people who founded this college in 1980 are:
1. The Chairman Late Sri Ramashray PD Singh
2. Minister of the Government of Bihar, Dr Jagdish Sharma
3. Formerly MP, Late Sri Jai Kumar Palit
4. Formerly MLA, Late Capt Shah Jahan
5. Formerly MLA, Sri Gopal Prasad Singh
6. Formerly District Board chairman, Gaya, Late Dr Shakeel Ahmad
7. Formerly principal, Mirza Galib College, Gaya
8. Chancellor BRBU University, Muzaffarpur
9. Late Prof RD Singh found it in 1981.
Gaya Engineering College is a government engineering college. It is run by the Bihar government's Department of Science and Technology. The AICTE has approved and recognized it. It is associated with Patna's Aryabhatta Knowledge University. 'Magadh Engineering College (MEC) was its name during 1980 to 1994. Presently, it is recognized as 'Gaya College of Engineering (GCE)' and is a public institute. On November 19, 2008, The Chief Minister of Bihar, Nitish Kumar, officially opened dignitaries and educators on the college campus.
Also Read: Gaya Weather | Best Time To Visit Gaya
Facts About Gaya Engineering College –
Gaya College of Engineering has five departments. The college offers four specializations in the B.Tech/B.E. program. It has an intake capacity of 60 students in each department. On the merit of the Entrance Examination, you can get admission. The Bihar Combined Entrance Competitive Examination Board conducts the exam. Likewise, the same exam is applicable for B.Tech Lateral entry.
Gaya College of Engineering conducts a proper admission procedure. They are following specific counselling sessions for the individual degrees. For instance, Candidates for the B.Tech program must have passed the screening test. This one is the initial stage of the admissions procedure. Likewise, candidates must sit for the BCECE Entrance Exam.
Admission In Gaya Engineering College –
Gaya College Of Engineering accepts students based on their ability to pass an entrance exam. Students must have completed 10+2 or equivalent exams to be eligible. Meanwhile, candidates must pass the BCECE test, administered by the Bihar Combined Entrance Competitive Examination Board (BCECEB).
What Is The Procedure For Applying?
Candidates interested in applying for programs at Gaya College of Engineering should follow the steps outlined below:
Online applications are the only way for students to use.
Fill out the online application form for BCECE 2020 at BCECE's official website.
Register on the site, choose the required course and fill out your personal information.
After you've activated your account, go to the applicant login page and begin filling out the form.
Scan your passport-sized photo and signature. You should upload it in the required format to the paper.
After you've finished, go over your form again. It would help if you double-checked all of the information you entered.
Pay the application cost online and complete the form. For future use, save and download the document.
Placements At Gaya College Of Engineering –
Gaya Campus's placement cell was established during the 2017-18 academic year. It is also aggressively calling top recruiters to the college for pre-final year students. On the other hand, training/internships in a variety of reputable sectors and institutions are available to third-year students.
For instance, the students recently visited DVC, NTPC, POWER GRID, BSNL, PRISM CEMENT. The internship compensation ranges from INR 5000 to INR 15000.
Some of the top recruiters come to this college:
1. CACTUS
2. Faceprep
3. Prism Cement
4. Chegg
5. Cloud Engineers
6. TATA Steel
7. Tre's Vision
8. Dalmia Bharat Cement
Also Read: Hotel In Gaya
Facilities At Gaya College Of Engineering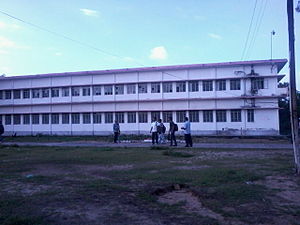 The following are the facilities for the students at the college:
Hostel: Boys and girls can stay in separate hostels with single-seater rooms. It has Wi-Fi access 24 hours a day, seven days a week. The mess at the hostel serves three meals a day (breakfast, lunch, and dinner). There is a different warden for each hostel to ensure all the facilities are suitable for the students.
2. Laboratories: Gaya College's laboratories are:
An EEE Lab
2. A Civil Lab
3. A Mechanical lab
4. A Computer lab
All Labs are large and well-equipped.
3. Library: A fully air-conditioned library with a capacity of roughly 75 people is accessible. It is with all of the necessary reading materials. Also, all reference books are available for students.
4. Sports Facilities: Volleyball, cricket, basketball, badminton, table tennis, and other indoor and outdoor games are offered.
5. Bank's Facility: Here, you will find a Madhya Bihar Gramin branch.
6. Medical Services: The college invites registered medical practitioners. They assess and provide medical health services to students regularly.
7. Celebrations: In the Annual functions, the college holds the giant tech Fest 'GRAVITON,' ADAVYA, SUMEDHA, and other events every year. Philanthropy GCEians is a student activity unit that organizes social events.
8. Gymnasium: It has well-equipped gym with the most up-to-date and professional equipment.
How Is The Faculty At Gaya College Of Engineering?
College of Engineering is dedicated to giving solid educational foundations. It also provides value to students to become future leaders. All credit goes to its highly educated teachers. The college also has 46 academic staff members and 150 administrative staff members with PhD degrees. All departments are filled by IITs, NITs, BITs, and other prestigious institutions.
Final Words | Gaya Engineering College
Gaya Engineering College is one of Bihar's top engineering schools. Above all, faculty members at this college are highly prepared and trained to teach students in the most effective manner possible. Some have earned PhD degrees from it and other universities. One of the disadvantages of this college is that it is outside of the central town. However, it causes some challenges for the students who live far from the college. This college provides a great learning atmosphere as well as a perfect setting for extracurricular activities. We can conclude that it is one of the best college for engineering.
Also Read: Gaya To Patna Train